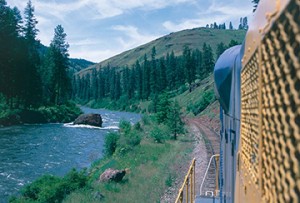 UPDATED: Unfortunately, we had to cancel these two train rides due to the dry weather and resulting risk of fire. We do this to comply with restrictions put in place by the Oregon Department of Forestry to protect our beautiful forests. Please see the schedule for other opportunities to ride the train.
The Eagle Cap Excursion Train is offering train rides designed just for vacationing families, Saturdays, August 5 and August 19. The rides are about half as long as our typical trip and they don't include lunch, making them an affordable way to take along the whole family for a ride on the train. And, there is still plenty of time after the ride for you to explore and enjoy more of Wallowa and Union County recreation and attractions.
The rides depart from Minam, the tiny berg at the confluence of the Minam and Wallowa Rivers, located about halfway between Elgin and Wallowa on Oregon Highway 82. The train follows the beautiful Wallowa River as it tumbles past tall timber and rugged basalt cliffs. The Wallowa River drains the high Wallowa Mountains, so river flow remains solid throughout the month of August. This stretch is roadless and designated a Wild & Scenic River by the federal government.
The train departs from the Minam boarding site at 9 a.m. and returns at 11 a.m. The trips take close to two hours, round trip – just right for restless kids. Snacks and beverages are available from the Minam Motel store, next to the boarding site, or in limited selection on the train.
Tickets for these short trips are just $15 for youth, ages 3 to 16; $25 for seniors; $30 for adults, and kids under three ride for free. Reservations are encouraged, but tickets are also available at the boarding site, the morning of the rides.
We hope to see you on the train this summer!