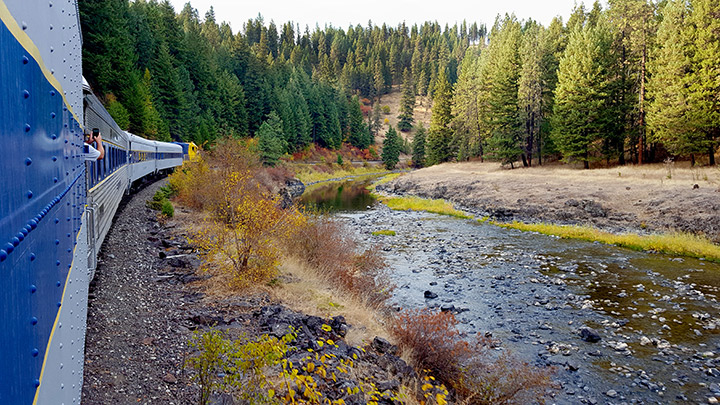 We enjoyed several great trips, beginning Mother's Day and continuing through July, including train robberies, a ride honoring Veterans, and the popular Bigfoot Train. Our volunteer car hosts and crew had fun meeting passengers from around the world and across the country, as well as next door neighbors and friends who have ridden numerous times.
With the hot, dry weather typical of August, and the restrictions on running motorized vehicles in the forest during times when the risk of forest fires is high, the train is taking the month off and preparing for a busy fall season.
We will resume running with our September 7 ride, when the weather has gentled a bit and the changing season will have started turning the underbrush golden and rust. Please take a look at the schedule and trip descriptions, make reservations and start planning your visit, soon. Check with the Union County and Wallowa County chambers of commerce for tips to round out your planning. Whether it's a day trip, a weekend getaway, or a week-long vacation, there are fun events, interesting attractions and plenty of opportunities for outdoor recreation to enjoy through the season. Fall is splendid in northeast Oregon and we look forward to helping you make great memories. See you soon!