Welcome to the official website of the Eagle Cap Excursion Train, located in the beautiful northeast corner of Oregon. The train offers scenic trips through the land of the Wallowas – one of the 7 Wonders of Oregon!
Click on Ride the Train to see the 2015 excursion schedule. If you need immediate information, please contact Alegre Travel, 800.323.7330, or train@alegretravel.com.
The Eagle Cap Excursion Train was recently featured on Grant's Getaways, a television show hosted by Grant McOmie and produced for Travel Oregon and KGW TV. We thank them. Enjoy! Then give us a call!
Sit back and enjoy the sights and sounds of a train ride on the Eagle Cap Excursion Train. Journey back in time on a section of the picturesque and historic Joseph Branch rail line in Northeast Oregon. Discover untamed territory as the train follows the Grande Ronde River downstream through rugged cliffs and timbered ridges, then travels up the Wild & Scenic Wallowa River. Whether you are a rail fan, a nature and wildlife enthusiast, a history buff or a vacationer looking for a fun and relaxing way to enjoy the spectacular beauty of region, a ride on the Eagle Cap Excursion Train is sure to please! The train departs from the new Elgin Depot, 300 Depot Street, Elgin, Oregon. The depot was built in 2012 in a style reminiscent of the original historic depot. Entire cars can be reserved for groups. Charter the whole train for unforgettable special events.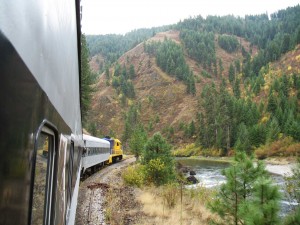 Watch this video by Chris Baxter of the La Grande Observer, made on July 20, 2013.
Eagle Cap Excursion Train video
Need advice on where to go for goods, services, events and entertainment? Go to the websites of the Union County and Wallowa County Chambers of Commerce. Or, download the new location-based Go Northeast Oregon mobile app to your smart phone!