Wallowa Union Railroad and the Joseph Branch
The Joseph Branch is a 63-mile long railroad that links the communities of Elgin, Wallowa, Enterprise and Joseph in Northeast Oregon with the Union Pacific railroad in La Grande.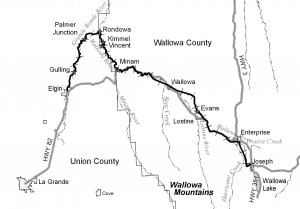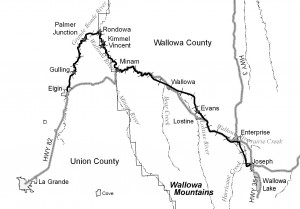 In 1993, Union Pacific sold the Joseph Branch to Idaho Northern & Pacific as part of a package of rail lines in the area. Passenger service was prevented because the UP maintained the ownership of the right-of-way between La Grande and Elgin. By 1996, freight service to Joseph stopped. Abandonment of the line above Elgin was approved by the Surface Transportaiton Board in April, 1997. See History for more information about the Joseph Branch.
WURA Formed: After several years of debate on how and whether to rescue the line before it was to be dismantled, an intergovernmental partnership between Union and Wallowa Counties was formed and the Oregon Legislature contributed $2 million for to purchase the line and limited rolling stock, to start its rehabilitation. The two counties secured a loan from the Oregon Economic & Community Development Department for the balance of the purchase price. On March 31, 2002, the purchase of the line between Elgin and Joseph was achieved. The Wallowa Union Railroad Authority was formed to operate the line and their crews started doing the work in December 2003. Freight service and an excursion train shared the track and crew in the first few years. From 2009 to 2011, a portion of the line not in use by the excursion train was leased to Union Pacific Railroad for the storage of excess lumber cars during the recession. This produced enough revenue for the WURA to retire their loan.
Excursions: The scenic train business was established as the Eagle Cap Excursion Train. The first full season of operation for the excursion train was 2004. The excursion train continues to provide scenic train rides on Mother's Day and selected Saturdays, from late June through October on the roadless section of track between Elgin and Minam. The train operates from the Elgin Depot, 300 Depot Street, in Elgin, Oregon.
Staffing: The Eagle Cap Excursion Train is staffed by professional train engineers and car hosts who are volunteers from the Friends of the Joseph Branch.