Saturday, / Two Rivers – Following the Grande Ronde and Wallowa Rivers as they tumble their courses and join together at Rondowa, our Two Rivers ride is our standard trip, and the scenery is fantastic! A delicious boxed lunch is included and served along the way. Departs from Elgin 10 a.m., and returns at about 1:30 p.m. 38 miles traveled, round trip.
Adults = $70 / Seniors 60+ = $65 / Youth, 3 to 16 = $35 (kids under 3 ride for free!)
Wednesday, / Two Rivers Bonus – This train ride follows the Grande Ronde River from Elgin to Rondowa, then travels up the Wild & Scenic Wallowa River to Minam, where you have the chance to stretch your legs before the return to Elgin. Enjoy the beautiful scenery during this 6-hour ride. Departs at 10 a.m.; boxed lunch and snack included. 52 miles traveled, round trip.
Adults = $80 / Seniors 60+ = $75 / Youth, 3 to 16 = $45 (kids under 3 ride for free!)
Saturday, / Robbery – Bandits are out there in the hills, and they are looking for an excuse to flag down the train and climb on board. There are beautiful horses and sneaky robbers. Hide your valuables and keep your camera handy! Boxed lunch is served during the return leg of the trip. Departs from Elgin at 10 a.m. and returns at about 2 p.m. 38 miles traveled, round trip.
Adults = $70 / Seniors 60+ = $65 / Youth, 3 to 16 = $35 (kids under 3 ride for free!)
Meals: Click here for a pdf of the excursion train menu choices for the season.
Sometimes things occur beyond our control that cause us to have to make changes to the train schedule, including, in very rare instances, even cancelling rides. We do everything in our power to keep this from happening, but if it should, the price of your ticket purchases will be refunded. We appreciate your understanding and look forward to seeing you on the train.
To book a seat, please select "Book Online". Our reservations manager can help if you need additional travel information, lodging arrangements or if you would like to purchase a gift certificate.
Youth Passengers: We love giving young riders the opportunity to ride a train, but for their safety, please make sure youth 12 and younger are accompanied by an adult at all times. If your youth has a healthy appetite, when you book their tickets, you may choose an adult meal for an additional $5, added to the Youth ticket price.
The Route: The train operates on the Wallowa Union Railroad (formerly known as the Joseph Branch), following the shores of the Grande Ronde River from Elgin north, to where the river is joined by the Wild & Scenic Wallowa River. The track then follows the Wallowa River upstream to Minam and then on through Wallowa and Enterprise, ending in Joseph. The Eagle Cap Excursion Train uses only the section from Elgin to Minam.
All rides feature beautiful views of the river, towering open and forested ridges and jagged basalt cliffs. Most rides include lunch or other food and beverages. Snacks and additional beverages are also available for purchase.
Please wear closed-toe shoes and be aware that there will be side-to-side rocking when the train is moving. There are rest rooms on the train and cars have air conditioning or heat, as needed. The Elgin Depot has a ticket counter, gift shop, multi-stall rest rooms and ample parking. 541.437.3652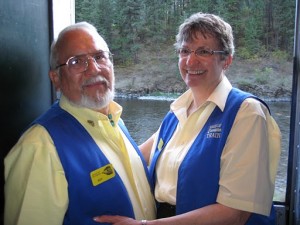 Ken and Shirley are among the couples working as car hosts. Ken also serves on the board of directors and assists with many aspects of train and depot operations.
Charters & Groups: Are you looking for a fun group activity or venue for your special event? Entire cars can be reserved for groups, or charter the whole train for an unforgettable special event. Regardless of whether you are on a charter or a scheduled trip, our car hosts help make your time on the train enjoyable.
Service dogs: We do not allow pets on the train. However, service dogs, with special training to assist their handler, are welcome. To smooth the process of checking in at the depot and to help our volunteers seat you and your service animal, please let us know in advance that your dog will be accompanying you. We ask that the dog wear a vest, so our volunteers and fellow passengers know they are on the job. They must be on a leash at all times.