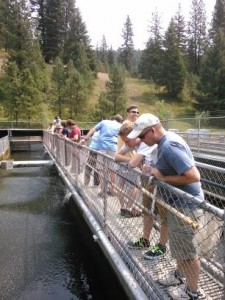 The Eagle Cap Excursion Train is offering an unusual train ride Saturday, August 29. The train operates on a remote stretch of track between Elgin and Wallowa, Oregon, in the state's scenic northeast corner. As was typical when railroads were constructed early in the twentieth century, the track follows the shores of two rivers, the Grande Ronde and the Wallowa, and crosses tributaries along the way. Both of these rivers are known as outstanding fisheries, particularly for steelhead and Chinook.
Lookingglass Creek joins the Grande Ronde several miles downstream from the town of Elgin and a few upstream from the confluence of that river with the Wallowa. Lookingglass Fish Hatchery, operated by the Oregon Department of Fish & Wildlife, is located just two miles from the railroad, making it a very handy side trip for outdoor enthusiasts and rail fans alike.
Saturday, August 29, the Eagle Cap Excursion Train will once again offer its annual combined train ride and fish hatchery tour. The tour is timed to give passengers a look into how the hatchery works to maintain and improve the population of Chinook salmon in the waterways of northeast Oregon. Participants will watch hatchery staff extract eggs from spawning salmon and see how juveniles are raised in hatchery ponds for eventual release.
"We are pleased the public has an interest in coming to visit the facility and see what we are doing," said Diane Deal, Lookingglass Fish Hatchery Supervisor. "Participants always seem to enjoy the tour and the beautiful setting. And we value the opportunity to engage with the public."
The train ride departs from the Elgin Depot at 10 a.m. and returns around 2:30. Passengers will ride the train 11 miles to the old Palmer Junction mill site, where they will board a bus for the short ride to the hatchery. After the tour, passengers return to the train and are served lunch during the return to Elgin.
The depot offers a gift shop, historical displays, public restrooms, indoor or covered outdoor waiting areas and ample parking for passenger cars and coaches. Completed in 2012, the depot was designed to reflect the style of the depot that earlier stood on the site.
The Friends of the Joseph Branch, a non-profit organization, manages and operates the train for the Wallowa Union Railroad, with certified members volunteering as car hosts, engineers and conductors. The volunteer organization has also been responsible for the passenger car renovations.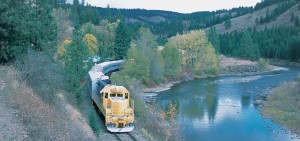 See the 2015 fall train schedule www.eaglecaptrainrides.com. For tickets, call Alegre Travel, 541.963.9000 or 800.323.7330, or reach them by email to train@alegretravel.com.