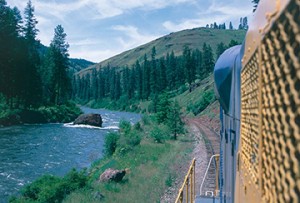 If you are looking for a fun way to celebrate Mother's Day, you may find the answer in our scenic northeast corner of Oregon. Mother's Day, Sunday, May 8, is opening day for the Eagle Cap Excursion Train's 2016 season. It is an excellent opportunity to enjoy a delicious brunch while viewing the beautiful spring scenery along the Grande Ronde and Wallowa Rivers. The many shades of green and colorful wild flowers in May make it an especially scenic time of year in the canyons.
The Mother's Day trip features brunch, prepared by Chuckwagon Sisters Catering and served on the train during the trip. The menu includes a wonderful selection of egg and meat entrée items, fresh pastries, fruit and beverages. The train departs at 10 a.m., Mother's Day, from the depot in Elgin, just twenty miles north of La Grande, Oregon.
"We have small gifts for the oldest mother and the mother who has traveled the furthest to ride," said Ed Spaulding, President of the Friends. "This is always a fun trip and we are anxious to get the new season under way, having worked all winter to prepare."
The route is almost entirely roadless, offering views of a landscape that can't be seen from an automobile. High, timbered and open ridges tower above while rugged basalt cliffs hug the track and light dances off the ripples. Birds and wildlife are common along the way. Highlights also include the Rondowa Bridge, where the two rivers converge and continue their journey to join the Snake River.
This is a popular trip, so reservations are required. Tickets are available through the online booking service on the website, www.eaglecaptrainrides.com or through Alegre Travel, the excursion train's booking agency, 800.323.7330 or train@alegretravel.com. Alegre Travel agents can also, upon request, book motel rooms and offer advice on other activities and attractions in the area.